Our Mission:
Achieving Higher Quality by Executing Cleanly
Our Purpose:
Build through quality and grow through service
Our Core Principles:
Health, Safety, Conservation, Customer Value
Our People:
Relationships are at the foundation of our business; and we strive to develop and retain our employees, which advances our business, technology, and customer relationships
Our Commitment to Quality:
We design and and manufacture all products carrying the YiJing brand to meet all relevant domestic and international standards. All new products include a one-year warranty.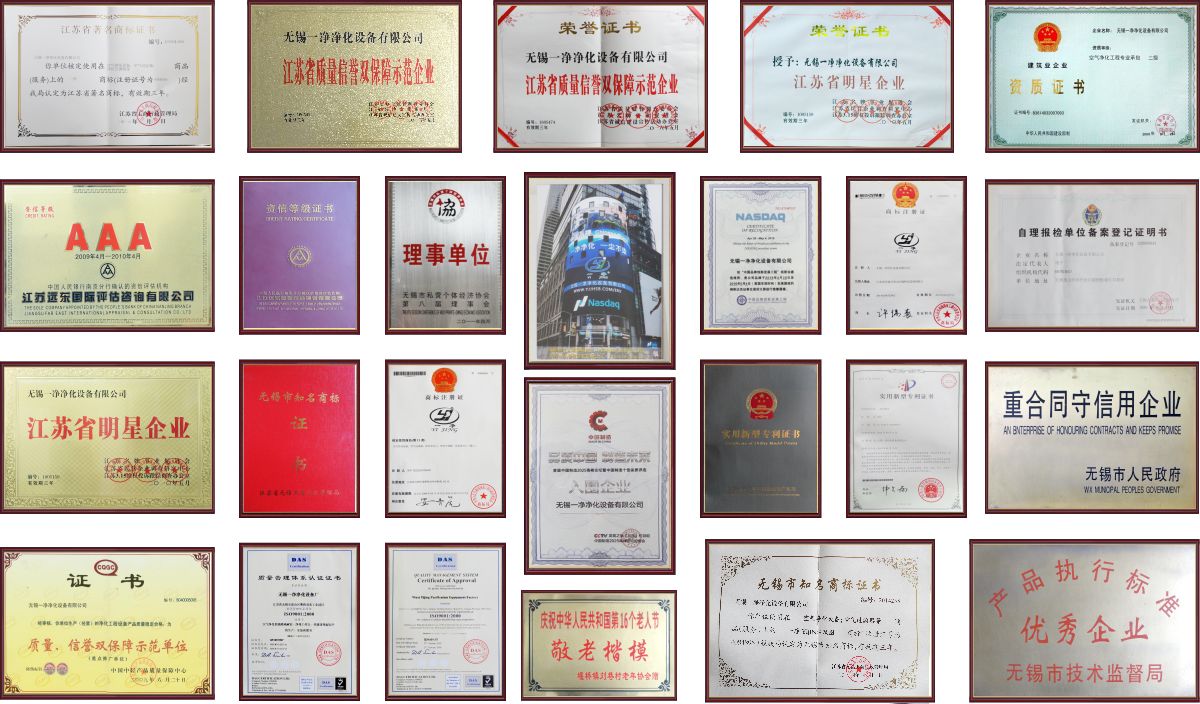 ■ 2003 Designated as "Superior Enterprise" by China Purification Equipment Network
■ 2005 Received ISO9001 Certification
■ 2006 Successfully registered trademark with International Commerce Bureau
■ 2009 Achieved AAA credit rating
■ 2009 Awarded "Advanced Quality and Safety Management" designation from China Engineering and Construction Association
■ 2009 Awarded "Leader in Quality and Trust" designation by the China Light Industry Quality Assurance Center
■ 2009 Obtained "Safe Production License"
■ 2010 Designated as a "Star Enterprise" by the Jiangsu Provincial Government
■ 2010 CEO Zhou Ping awarded "Most Trusted Entrepreneur" by the Jiangsu Provincial Government
■ 2011 Became honorary chartered member of the Wuxi City Chamber of Commerce
■ 2013 Awarded "Certificate of Standardized Safe Production" by the Wuxi City Manufacturing Safety Supervisory Bureau
■ 2014 Obtained "Well-Known Trademark Certificate"
■ 2015 Obtained "Innovative Patent Certification" from the International Intellectual Property Bureau
■ 2015 YiJing cleanrooms for a pharmaceutical factory in Kazakhstan received international GMP certification
■ 2015 YiJing was the subject of an episode of the nationally broadcast documentary series "Road to Discovery" that covered the company's innovations in and contributions to the purification industry
■ 2015 Awarded "2015 Highest Quality Company in a Growth Industry" at the first annual China Manufacturing Quality Awards
■ 2015 CEO Zhou Ping attended China Manufacturing Quality Awards and YiJing was selected as a "Top-10 in Overall Quality in the Manufacturing Sector"
■ 2016 Awarded "Leader in Quality and Trust" by the Jiangsu Provincial Quality Assurance Committee
■ 2016 Appeared in a nationally televised interview at the 19th annual Shanghai Baked Goods Expo
■ 2016 With the cooperation of Chinese CCTV, the National Commerce Bureau and the Chinese State Department, an advertisement for YiJing appeared in Times Square on the Nasdaq Tower Screen
■ 2016 Received "Famous Trademark Designation" from the Jiangsu Provincial Government